Join PFPS for Two Upcoming Webinars: "Beyond Espinoza: Challenging Vouchers in the Courts" and "Wolf at the Schoolhouse Door"
|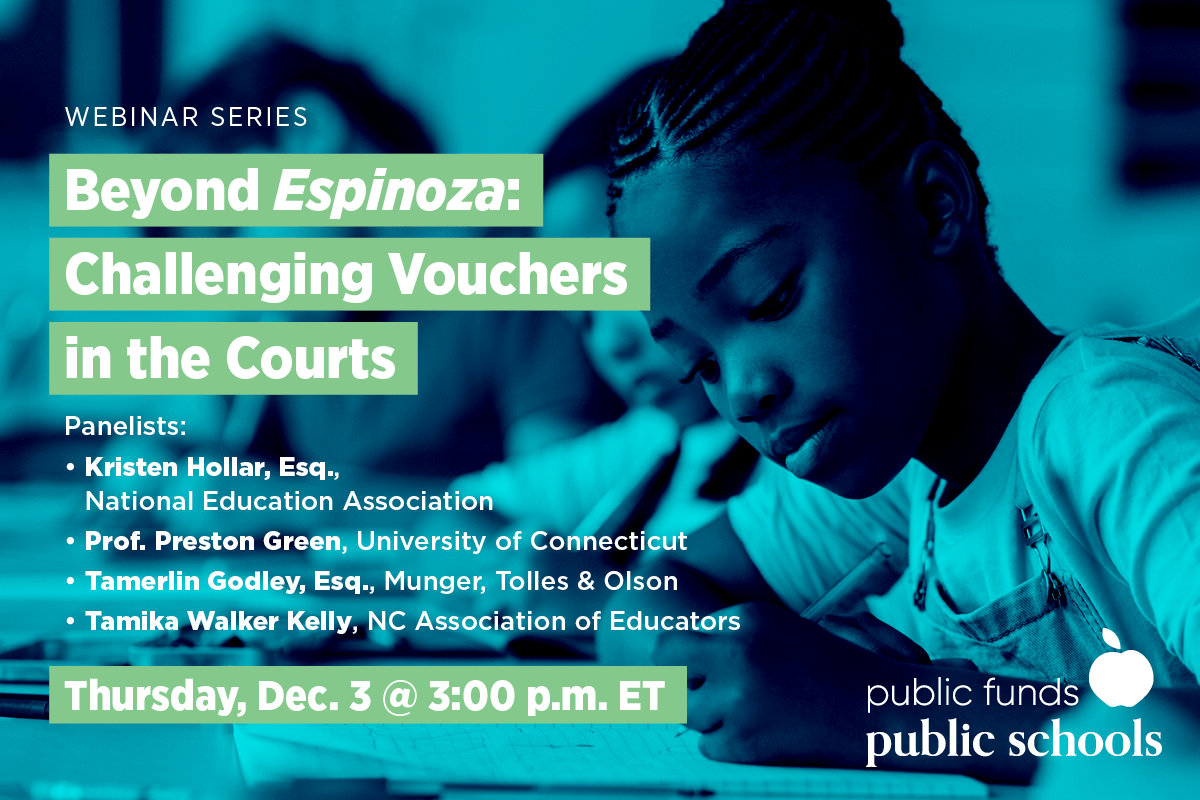 A year of must-see webinars about private school vouchers and education privatization presented by Public Funds Public Schools is coming to an end with two powerful additions.
The first webinar will focus on the U.S. Supreme Court's decision earlier this year in Espinoza v. Montana Department of Revenue, which upheld Montana's tax credit voucher program and ruled that religious schools must be allowed to participate. The decision was a setback for private school voucher opponents but left many avenues available to challenge vouchers in the courts.
What: "Beyond Espinoza: Challenging Vouchers in the Courts"
When: Thursday, December 3, at 3 p.m. EST
Who:
Kristen Hollar, Staff Counsel at the National Education Association
Dr. Preston Green, Professor of Educational Leadership and Law at the University of Connecticut and the John and Maria Neag Professor of Urban Education at the Neag School
Tamika Walker Kelly, President of the North Carolina Association of Educators and lead plaintiff in a pending lawsuit challenging North Carolina's voucher program
Tamerlin Godley, partner at Munger, Tolles & Olson, LLP, which collaborates with Education Law Center and the Southern Poverty Law Center on the PFPS campaign
The panelists will draw from their extensive experience participating in, analyzing, and advising on litigation efforts to halt and roll back private school voucher programs.
Use this link to register for "Beyond Espinoza: Challenging Vouchers in the Courts."
PFPS's final webinar of the year will welcome journalist Jennifer Berkshire and historian Jack Schneider, hosts of the popular podcast Have You Heard. On December 16 at 3 p.m. EST, Ms. Berkshire and Mr. Schneider will discuss their new book, "A Wolf at the Schoolhouse Door: The Dismantling of Public Education and the Future of School," available here. Use this link to register for "A Wolf at the Schoolhouse Door."
Use this link to view previous webinars in the PFPS series.