Join PFPS for Our Next Webinar: Vouchers, Voter Suppression, and Other Vices: The Effort to Undermine Democracy and the Public Good
|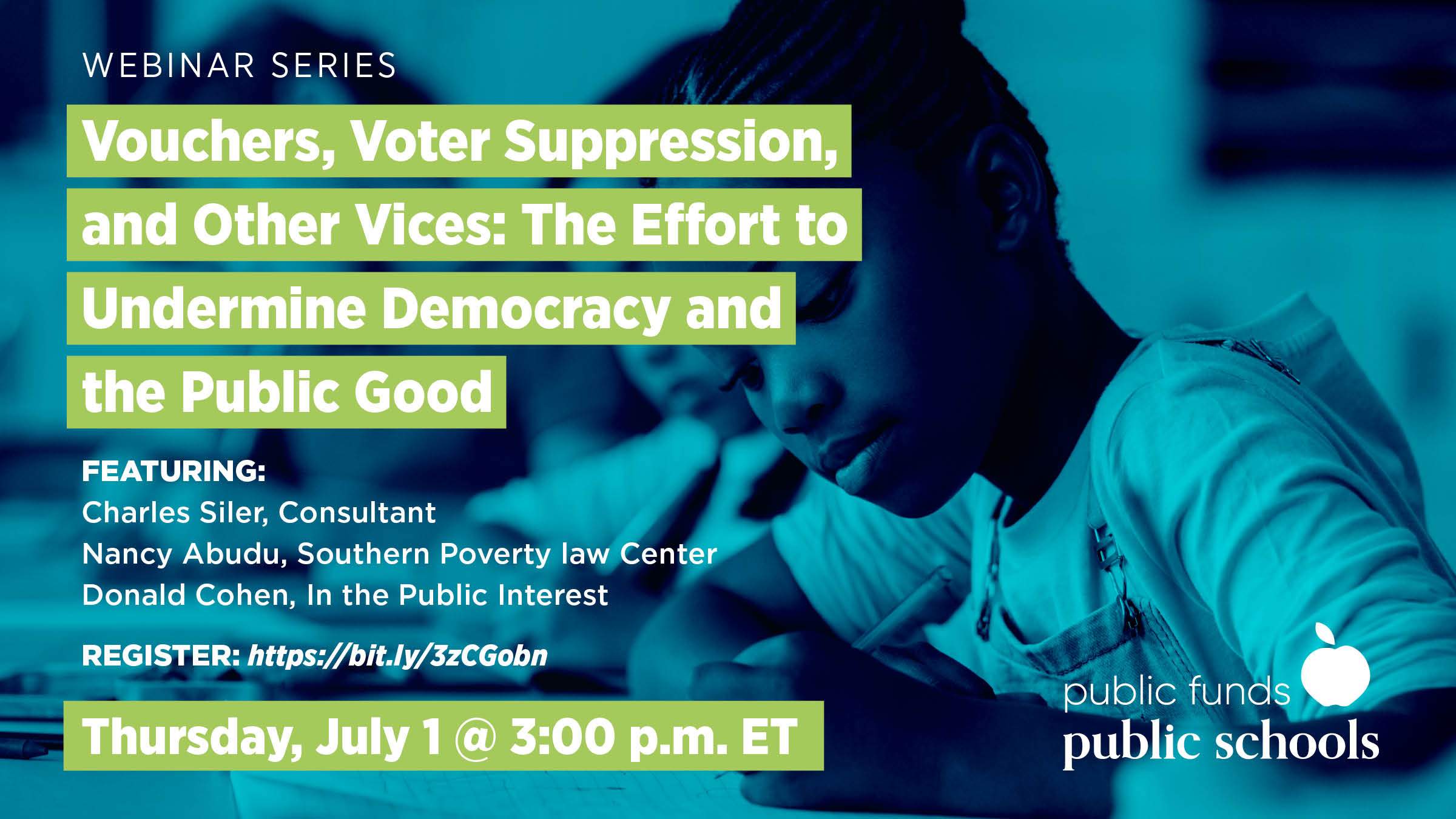 On Thursday, July 1, at 3 p.m. EDT, Public Funds Public Schools (PFPS) will host the tenth installment in a series of webinars on issues related to private school vouchers and the campaign's goal of ensuring public funds are used to maintain, support, and strengthen public schools.
The webinar, "Vouchers, Voter Suppression, and Other Vices: The Effort to Undermine Democracy and the Public Good," will explore the connections between private school vouchers, other forms of privatization of public goods, and broad efforts to undermine American democratic institutions, including the central institution of voting. This event builds on previous PFPS webinars, including conversations with Professor Julie Mead and Professor Derek Black about the essential role of public education in our democracy.
The July 1 webinar will feature three advocates who are uniquely positioned to offer insights about the powerful forces seeking to undermine public institutions and how to effectively oppose them:
Charles Siler is an anti-racist, equity, and pro-public education consultant, working to advise and connect groups resisting the destruction of public institutions and collective empowerment. He formerly worked as a lobbyist and public relations director for the Foundation for Government Accountability and Goldwater Institute, both organizations affiliated and aligned with the State Policy Network and the American Legislative Exchange Council (ALEC). Mr. Siler most recently represented Save Our Schools Arizona as a lobbyist and political consultant to oppose vouchers and promote well-funded public schools for Arizona students. He has spoken candidly about the motivations and strategies of those who seek to privatize public schools and dismantle public goods and services.
Nancy Abudu is Interim Strategic Litigation Director at the Southern Poverty Law Center. She leads a team of legal and technical experts dedicated to ensuring the voting rights of communities of color and other historically disenfranchised groups, primarily in the Deep South. She was previously the legal director for the ACLU of Florida and a senior staff attorney with the ACLU's Voting Rights Project. Ms. Abudu has litigated numerous civil rights cases challenging felon disenfranchisement, proof of citizenship and voter photo ID laws, has pushed for greater enforcement of federal laws that protect the right to vote, and has published several articles and a book chapter on various forms of voter suppression.
Donald Cohen, founder and executive director of In the Public Interest (ITPI), will moderate the discussion. ITPI is a national nonprofit research and policy organization that studies public goods and services. It helps community organizations, advocacy groups, public officials, researchers, and the general public understand how the privatization of public goods impacts service quality, democracy, equity, and government budgets. ITPI also advocates for strengthening, adequately funding, and building popular support for public institutions. Mr. Cohen is the co-author of a forthcoming book, The Privatization of Everything: How the Plunder of Public Goods Transformed America and How We Can Fight Back.
To register for "Vouchers, Voter Suppression, and Other Vices: The Effort to Undermine Democracy and the Public Good," on July 1, at 3 p.m. EDT, please click here.
To access previous PFPS webinars and additional tools for advocates, please click here.