Join PFPS for Our Next Webinar: Is Anti-Masking Anti Public Education? Exploiting the Pandemic to Privatize
|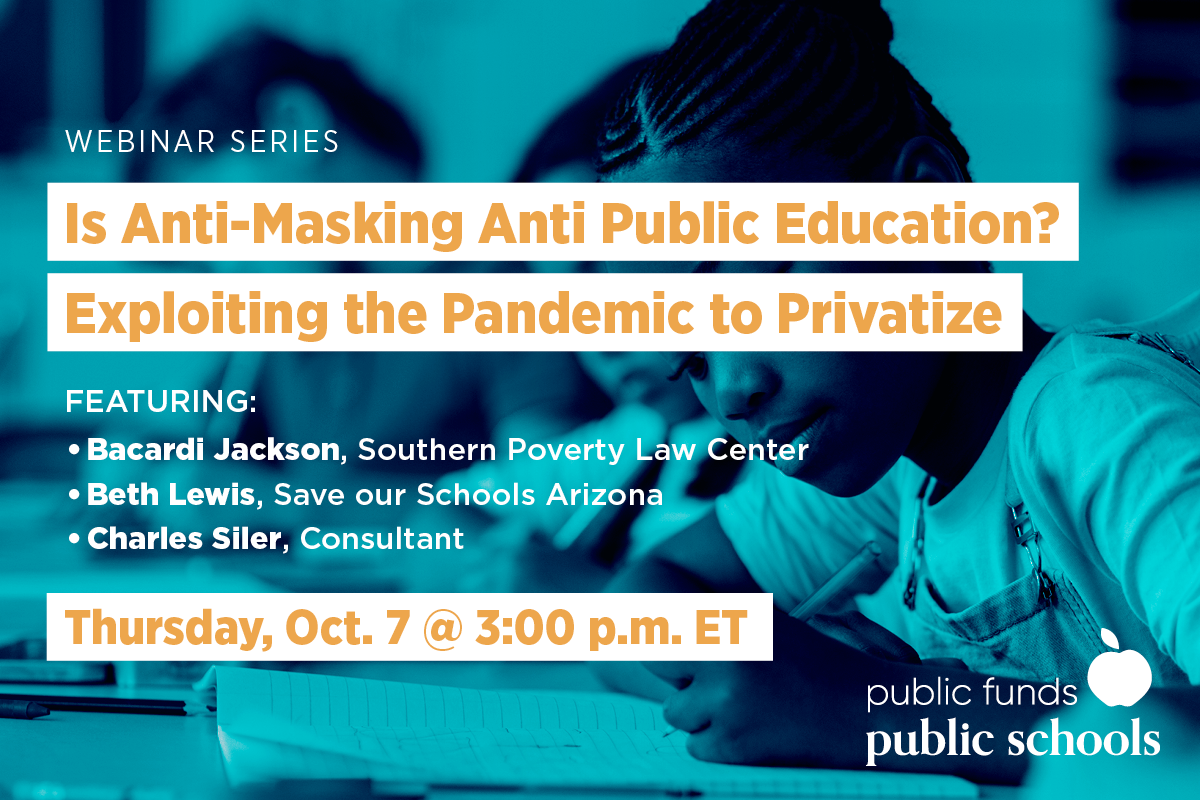 The Public Funds Public Schools (PFPS) webinar series kicks off the 2021-22 season on Thursday, October 7, at 3 p.m. ET, with "Is Anti-Masking Anti Public Education? Exploiting the Pandemic to Privatize." PFPS webinars explore issues related to private school vouchers and the campaign's goal of ensuring public funds are used to maintain, support, and strengthen public schools.
The October 7 webinar will look at how resistance to COVID-19 safety measures for public schools has been leveraged to undermine public education.
The webinar will feature advocates from Florida and Arizona, two states currently grappling with policies that ban mask mandates in public schools. The governors of both states have established new voucher programs—via executive rather than legislative action—for families in public schools that are enforcing COVID-19 safety protocols such as masking.
Webinar speakers include:
Bacardi Jackson, Interim Deputy Legal Director for Children's Rights at the Southern Poverty Law Center (SPLC). The Children's Rights Practice Group works to ensure that vulnerable children in the Deep South have equal opportunities to reach their full potential. As Managing Attorney of SPLC's Miami office, Ms. Jackson has been deeply involved in litigation and advocacy to challenge policies harmful to children in Florida—and across the South and the nation—during the pandemic.
Beth Lewis, Executive Director of Save our Schools Arizona (SOS Arizona), a community-based organization fighting for strong public schools for a strong Arizona. Under Ms. Lewis's leadership, SOS Arizona spearheaded the ballot referendum that successfully stopped a massive expansion of Arizona's education savings account voucher program in 2018, and has continued to fight for adequate funding for the state's public schools and against school privatization policies. Ms. Lewis is a Rodel Exemplary teacher who has taught 5th and 6th grade in Arizona for nine years.
The conversation will be moderated by Charles Siler, a pro-public education consultant who works to advise and connect groups resisting the destruction of public institutions and promoting collective empowerment. He formerly worked as a lobbyist and public relations director for the Foundation for Government Accountability and the Goldwater Institute and has spoken candidly about the motivations and strategies of those who seek to privatize public schools.
To register for "Is Anti-Masking Anti Public Education? Exploiting the Pandemic to Privatize," on October 7 at 3 p.m. ET, please click here.
To access previous PFPS webinars and additional tools for advocates, please click here.