Dark Money and the Politics of School Privatization: The Next PFPS Webinar
|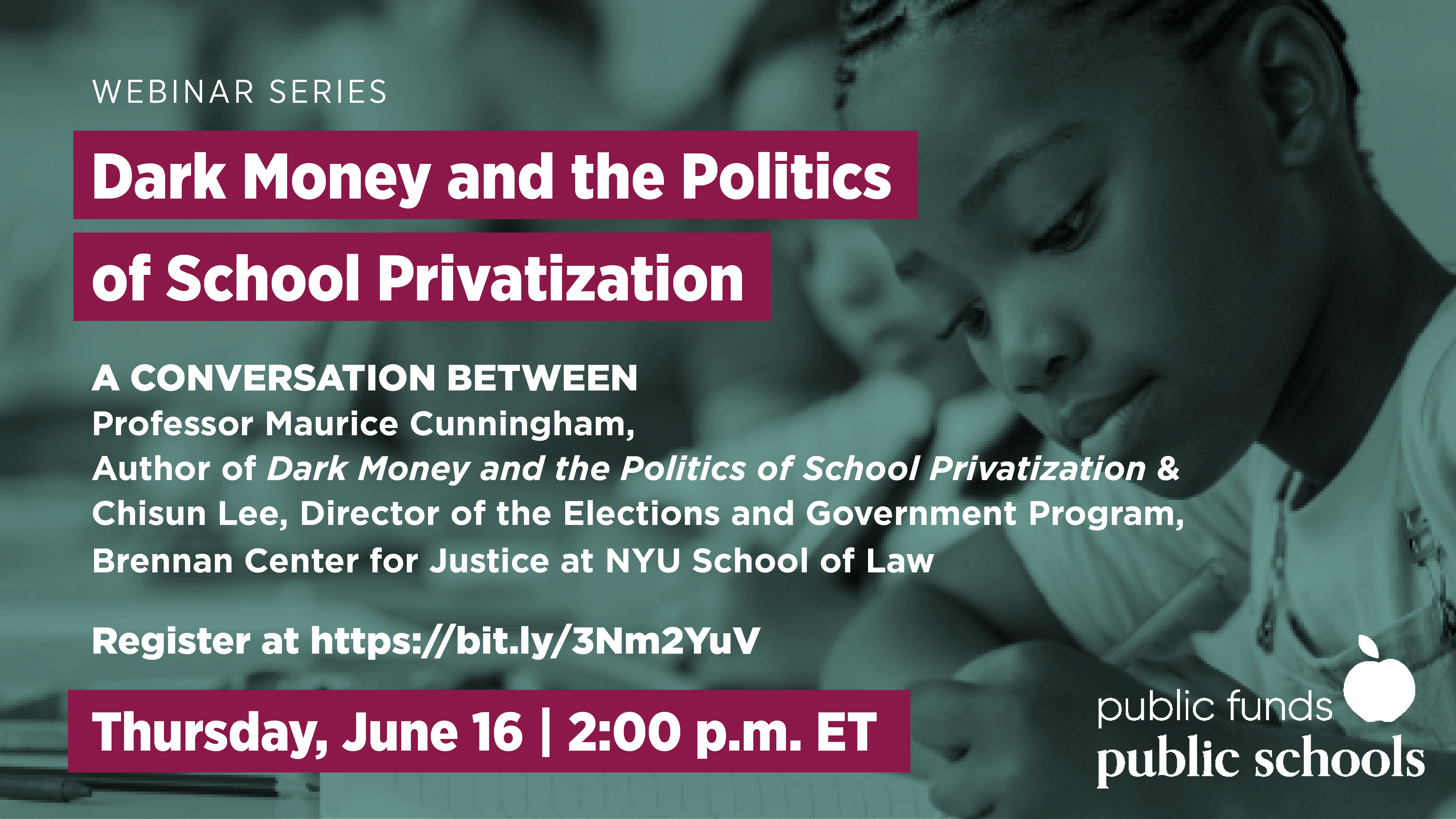 The next installment in the ongoing webinar series sponsored by Public Funds Public Schools features Maurice Cunningham, author of Dark Money and the Politics of School Privatization, in conversation with Chisun Lee, Director of the Elections and Government Program at the Brennan Center for Justice at NYU School of Law, a nonpartisan law and policy institute that has published extensive research on the effects of dark money in politics.

The webinar will take place on Thursday, June 16, at 2 p.m. ET.
Professor Cunningham will discuss his new book, which explores the complex networks of funding that sustain school privatization campaigns but are often hidden from public view. Professor Cunningham's research focuses on Massachusetts politics and has included the exposure of dark money contributions in the state's education politics from groups that do not disclose their donors. His work provides insights into the strategies and tactics used by wealthy privatizers and lessons for how to combat them in every state.
To register for "Dark Money and the Politics of School Privatization: A Conversation Between Author Maurice Cunningham and Chisun Lee," please click here.
About the speakers:
Maurice Cunningham, J.D. Ph.D., recently retired as associate professor of political science at the University of Massachusetts at Boston, where he taught American politics. He is a cofounder of and contributor to the political blog MassPolitics Profs. His work on dark money in Massachusetts earned him the 2017 Distinguished Public Service Award from the Massachusetts Association of School Committees and the 2018 MTA President's Award from the Massachusetts Teachers Association.
Chisun Lee is director of the Elections and Government Program at the Brennan Center for Justice, which strives to uphold and improve the systems of democracy and justice to work for all. Lee oversees work to advance money-in-politics reform and improve election administration. She leads strategy and research for policy initiatives, legislative campaigns, publications, litigation, and public advocacy. Lee has authored or co-authored nationally recognized reports and legal scholarship and is a popular-book contributor. She writes and comments for outlets such as the New York Times, Washington Post, and NPR. She has provided testimony, briefings, and policy advice to federal, state, and local lawmakers across the country and taught as an adjunct professor at NYU School of Law.
To access previous PFPS webinars and additional tools for advocates, please click here.