Join PFPS for a Webinar on "State Advocacy to Fight Vouchers and Protect Public Schools"
|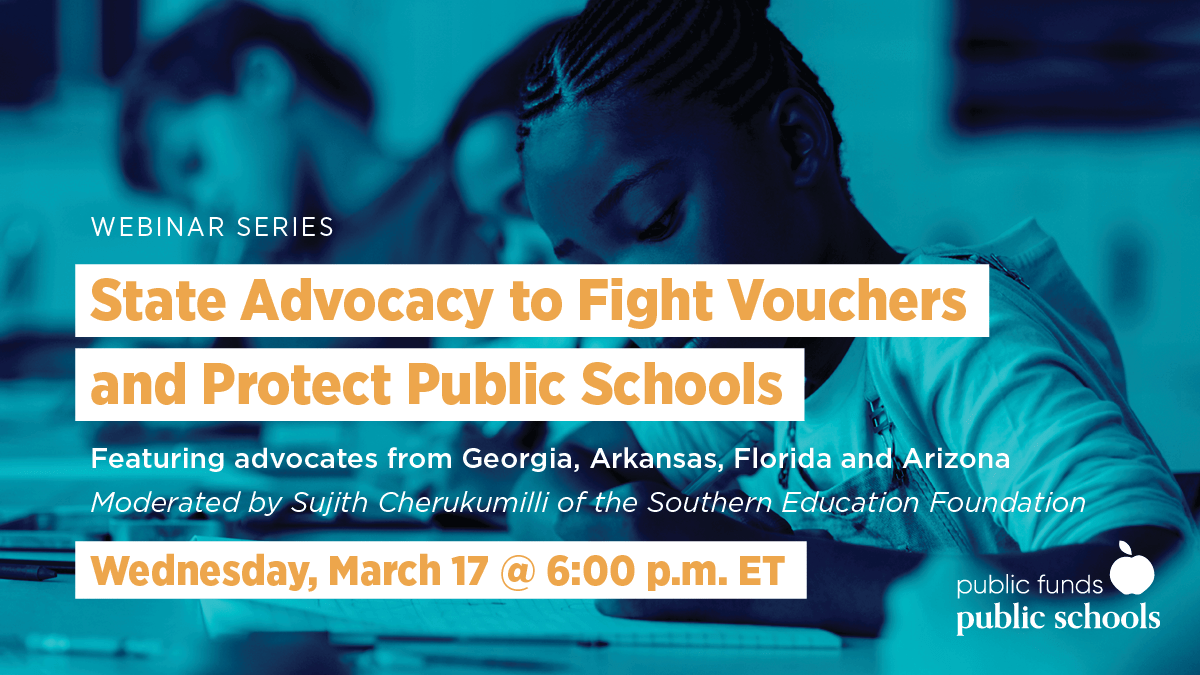 Public Funds Public Schools' next highly anticipated webinar, "State Advocacy to Fight Vouchers and Protect Public Schools," will be held on Wednesday, March 17, at 6 p.m. EST. The webinar will feature advocates from Arkansas, Georgia, Arizona, and Florida, who are working to fight private school vouchers and support public schools in their states.
Panelists include:
Bill Kopsky, Executive Director, Arkansas Public Policy Panel
Amanda Hollowell, Director of Strategic Campaigns, Georgia Budget and Policy Institute
Stephen Owens, Senior K-12 Education Policy Analyst, Georgia Budget and Policy Institute
Sharon Kirsch, Research Director, Save Our Schools Arizona
Rev. Rachel Gunter Shapard, Co-Founder, Pastors for Florida Children
These experienced advocates will discuss the work their organizations are doing to oppose voucher legislation introduced during their states' 2021 legislative sessions, and more broadly, strategies for mobilizing and organizing against school privatization efforts at the state level.
The discussion will be moderated by Sujith Cherukumilli, Government Affairs and Advocacy Analyst at the Southern Education Foundation, who has extensive experience working on a range of education policy issues, including opposition to private school vouchers.
This event builds on PFPS' previous webinar, "Fighting Voucher Legislation in 2021: An Update on State Voucher Bills and Tools to Oppose Them," in which representatives from national organizations discussed the 2021 voucher landscape and the tools and resources available to public school advocates.
To register for "State Advocacy to Fight Vouchers and Protect Public Schools," please click here.
This is the ninth webinar in a series on issues related to private school vouchers and PFPS's goal of ensuring public funds are used to maintain, support, and strengthen public schools. Visit the Advocacy page of the PFPS website to view previous webinars in the series.